Day 109: A song you like from someone you consider a one hit wonder.
"Say Hey (I Love You)"
Michael Franti & Spearhead (featuring Cherine Anderson)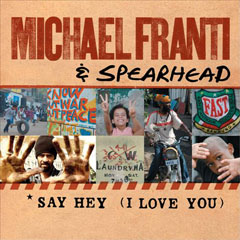 To be clear, I am not the only one who considers Michael Franti & Spearhead to be a one-hit wonder. When I went looking for lists of one-hit wonders on Wikipedia, there they were on the list. Along with many, many, many, many (can I stop now?) others.
The sad thing is that I like a whole bunch of the people on those lists. And not necessarily just for the song in question (although in plenty of cases it is just for the song in question). Since the Hot 100 chart and I tend to disagree on a lot of things, I don't discriminate based on chart placement. In some cases (like a-ha to name just one), I have numerous albums from someone who the singles charts have only recognized once.
Not familiar with a song I've mentioned?
Click

above to hear samples
and purchase songs.
I guess the point I'm trying to make is that chart placement is not necessarily an indicator of quality.
At any rate, this song was Michael Franti & Spearhead's first Top 40 hit, despite the fact that they've been releasing albums since 1994. Taken from their 2009 album All Rebel Rockers, the song rose to #18 on the Billboard chart. I, personally, think one thing that helped it was a convergence of "feel" and release date.
Released at the beginning of June, it's just the time when people are on the lookout for "summer songs": feel-good songs that make you want to listen to them in the car with the windows down. (Despite the fact that no one seems to drive with the windows down anymore. It's a lost pleasure.) "Say Hey" has a funky, semi-reggae, island-y feel that fits that criteria pretty well.
The song is not typical of the rest of the album. But it's not exactly atypical either. The rest of the album contains reggae-influence (or flat-out reggae) beats, but most have a harder edge or much slower tempo. So "Say Hey" sort of stands out from the fray.
The fact that "Say Hey (I Love You)" was a hit was apparently not lost on Mr. Franti. Their next album, The Sound Of Sunshine, leaned heavily toward the feel and tempo of their hit and further away from the "pure" reggae sounds from the previous album. (Not that it mattered. They are after all a one-hit wonder.) But, songs like "The Sound Of Sunshine" and "Shake It" certainly seem to say that the desire for a repeat visit to the charts was there. But not attainable. At least not as of this writing.
If I had my way (and, as I mentioned, I rarely do when it comes to the charts) those songs, and possibly others from The Sound Of Sunshine, would have been hits, too. I rather liked the album (more than All Rebel Rockers) and feel that it's pretty solid top to bottom.
For the record, their latest release seems to have moved away from the ska and reggae feel toward straight-ahead pop. I wasn't impressed, and for once, the Hot 100 seemed to agree. But I'm guessing that's coincidence.
Summer's coming around again (I think; the weather in New England lately leads me to believe it's never coming), so it's almost time to queue these song up again. You should check them out.
But not too much. We wouldn't want them to chart and wreck the whole "one-hit wonder" thing.