Day 59. A song whose lyrics you take advice from.
"Don't Give Up" – Peter Gabriel (featuring Kate Bush)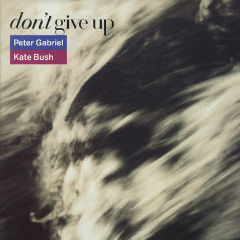 Sometimes you get those situations where life just beats you down.
I ran into one of those many years ago. I won't go into details, but I'd been wrongly accused of something, and the accusation hit me hard. I was depressed. (Even thinking about it now brings me down, so this post will be short.) At the time, I had no idea what to do or what was going to happen.
I was listening to Peter Gabriel's So album (yes, he was finally coerced into an album name other than Peter Gabriel) one day while all of this was going on. I was very familiar with the album by that point, but there had never been any real personal connection.
And then "Don't Give Up" came on. The song on the whole deals with a man who's at the end of his rope because of employment and financial issues. While that was not my situation, there were many lines in the song that seemed to hit home.
Not familiar with a song I've mentioned?
Click

above to hear samples.
Like this:
In this proud land we grew up strong
We were wanted all along
I was taught to fight, taught to win
I never thought I could fail
And this:
Rest your head
You worry too much
It's going to be alright
When times get rough
You can fall back on us
Don't give up
Please don't give up
But mostly this:
Don't give up
'Cause you have friends
Don't give up
You're not the only one
Don't give up
No reason to be ashamed
Don't give up
You still have us
Don't give up now
We're proud of who you are
This last part was what really hit home. This is basically what my family was telling me, if not in so many words. They knew what was being said wasn't true, and they were behind me. I don't know exactly why their words didn't affect me as directly as the lyrics to the song did, but that's how it worked out.
I don't know how the protagonist in Peter Gabriel's song fared in the end, but my story's ending was good. The truth came to light, which brought the whole ordeal to a close. There are still some emotional scars that haven't healed, but that's all part of life.
The important thing is I never gave up.