Day 40. Your favorite song from the 50s
"Get Rhythm" – Johnny Cash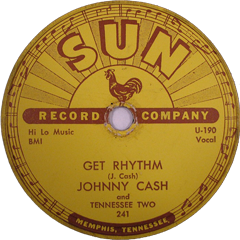 Now that the "singing trilogy" is complete, we move into a week of "Your favorite song of the XXs" series. I'm technically breaking the rules with my dates. For an explanation, go here.
This topic, and the ones that follow, are going to be tough for me. I find that picking a song based on very specific criterion is a lot easier than picking a favorite of <insert category here>, especially over a period of time.
For example: My favorite song ever? Unlike some people, I don't have just one. When you get an answer—if you do—it's going go come along with a bunch of caveats and explanations. I can't just come out and say something like, "No question! 'Love Is A Wonderful Thing' by Michael Bolton is my favorite song." (I'm praying to God those words have never ever been pieced together in that order before.)
I actually think this is easier if you're not a big music fan. As it stands, there are too many songs that I love for me to be so singular. On top of that, my choice may change based on my mood, the day, the weather; any number of variables, really.
Having said all that, as the "Favorite song of the XXs" go, the 50s are the easiest for me. Since my preferences run primarily to rock, and having been born in 1970, there aren't that many songs from the 50s that really grab me.
My theory is this: your favorites tend to correspond roughly to the years you've been alive. There are exceptions and extensions of course. (For example, I like a lot of stuff from the 60s, but more on that tomorrow; similarly, I died back in 2004 and was replaced with a look-alike à la Paul McCartney*, but there are still songs coming out today that I like.) So the farther back in time you go, the less you're familiar with; thus, fewer songs of the day make your list.
Again: in general. Nothing is absolute. (Bonus points if you can tell me what's wrong with that last sentence.)
The 50s songs that rate highest with me come courtesy of either movies or my mother. (If you'll recall, my mother was a fan of what she termed "hillbilly music" so that colors the candidates quite a bit.)
My list was quickly narrowed to four:
"Rebel Rouser"—Duane Eddy. I'd heard it before Forrest Gump came out, but the movie reintroduced it to me. However, unlike the other two, this one had no personal significance, so I eliminated it.
"Shake, Rattle and Roll"—Bill Haley & His Comets. This, once upon a time, used to be the theme song of the  Springfield (MA) Indians AHL hockey club. I heard it a lot in Junior High when we used to attend games regularly. (If the Indians get brave, you get chicken! (And a Roll!)) While a good song, and probably the most stylistically "in my wheelhouse" of the finalists, I decided ultimately it was a little too sexist to get the top grade.
"Blue Boy"—Jim Reeves. This is a remnant of my mother's influence. It falls firmly in the realm of "Nashville sound" country music, and thus well outside of my usual taste boundaries, but I love it. I don't know why; there's no accounting for taste. (Something a classical music aficionado said to me as he walked by one day while I was listening to "The Waiting Room" by Genesis.) This was my leading choice for a while, but, a little embarrassed by its strong country influence, I ruled it out as well. (But here I am telling you about it anyway, so, whatever.) "Blue Boy" is a very close second here.
And finally:
"Get Rhythm"—Johnny Cash. I settled on this song (but you know that, assuming you read the title of the post and/or the header at the top). This one has been kicking around our house as long as I can remember, but even beyond that, my interest in early Johnny Cash songs was rekindled a few years ago when the movie Walk The Line came out. As much of a total wackadoodle Joaquin Phoenix is, I thought he captured the essence of Johnny Cash in it very well. (And Reese Witherspoon's singing is way better than June Carter Cash, in my opinion, as well as being nicer to look at). It was the impetus for me to go back and re-investigate the early Johnny Cash catalog.
As it turns out, I really enjoy most of those old Sun Records-era Johnny Cash recordings. Maybe it's the fact that I like trains and that Luther Perkins' "boom-chicka-boom" guitar style channels the feel of a moving train so well, or maybe it's just that they're damn good tunes. Whatever the reason(s), the songs—and "Get Rhythm" in particular—strike a chord with me.
While Johnny Cash is most closely associated with country music, and not rock per se, his influence on rock music is undeniable. Heck, he's even in the Rock and Roll Hall of Fame. (But then, so are ABBA and Madonna, so maybe that's not a good litmus test. I like ABBA and Madonna, but "rock" they are not.) At any rate, it may not be too crazy that a Johnny Cash song ends up being my choice for the 50s.
Now give me a Coke and a burger while I grease up my hair and put a nickel in the juke box…