Day 128: The most obscure song by The Beatles that you can think of.
"The Sheik Of Araby" – The Beatles (Duh)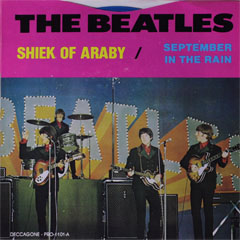 It's pretty tough for a Beatles song to be obscure these days. I was going to say "Her Majesty" since that 23-second song from Abbey Road was originally considered a "hidden track" (and possibly the first hidden track ever). It got tacked on to the end of the album when it was decided to pull it out from in between "Mean Mr. Mustard" and "Polythene Pam."
So, since it was on an album that sold a bajillion copies, it can hardly be considered "obscure," despite the fact that for years people didn't really know what it was.
Thus, I decided to go with something even more obscure: "The Sheik Of Araby." This song was actually recorded in 1962 by The Beatles for their Decca audition (you know, Decca, the brain trust of a label that passed on The Beatles). Continue Reading