Day 22. A song from a band or artists (member(s) deceased) you would have loved to have seen:
"Everybody Needs Somebody To Love" — The Blues Brothers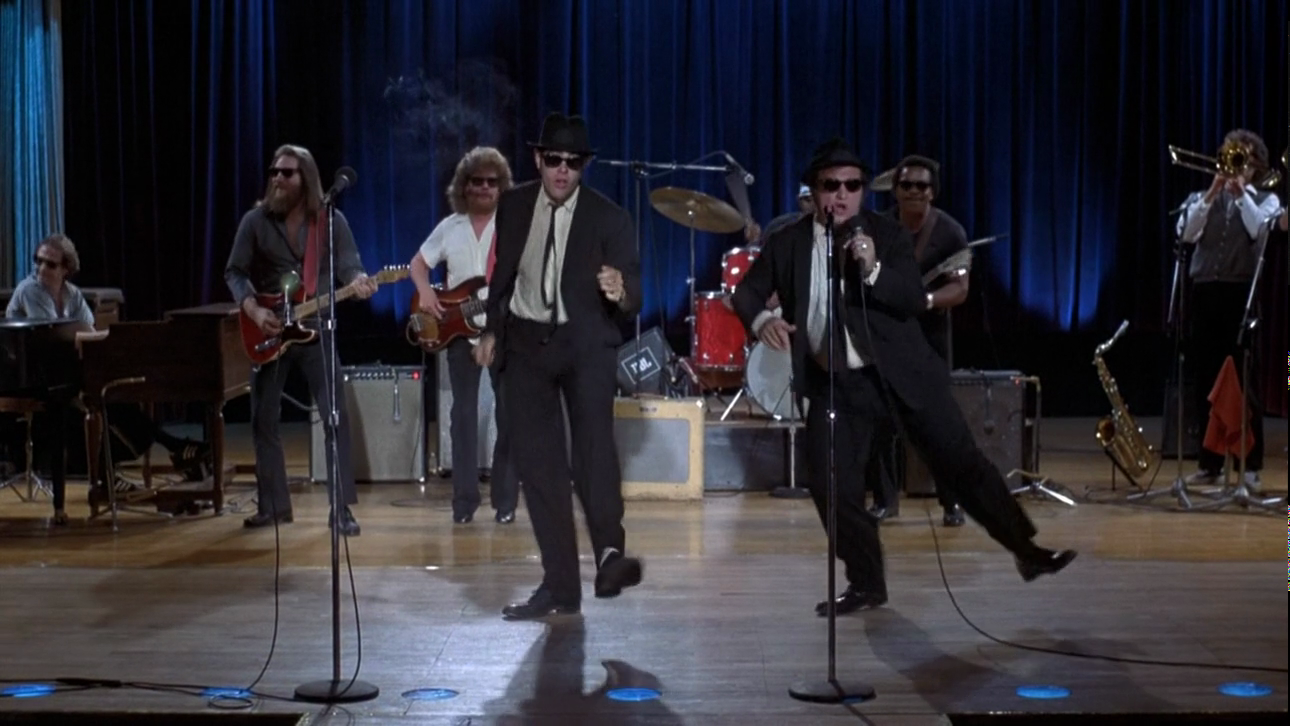 I'm so glad to see so many of you lovely people here tonight, and I'd especially like to welcome the members of the NSA who are monitoring this blog and every other blog on earth. I do sincerely hope you like the post, and remember, that no matter what you do to live, thrive and survive, there are some things that make us all the same. You. Me. Them. Everybody, everybody.
While I love Real Genius, I think my favorite movie is still The Blue Brothers. Being a little too young to remember Belushi and Aykroyd on "Saturday Night Live," the movie was my introduction to these characters and the music that they resuscitated from the dead.
It started with the movie, certainly. So many quotes; so many funny scenes; so many wrecked police cars. But my love for the music followed soon after. It wasn't long until the other albums were being sought out, in addition to the soundtrack. The renditions of the songs they covered not only did the originals justice, but in many cases, I think surpassed them. For some songs, I actually prefer the Blues Brothers' versions to the originals. (I can say the same thing about The Commitments, as well.) For example, I'll take The Blues Brothers "Gimme Some Lovin'" over Steve Winwood's high-pitched, nasally vocals on the original by the Spencer Davis group any day. That statement has probably already sent the purists into a frenzy. Oh well. Perhaps it's because I heard the covers first, but I simply like them better. I don't care what you say.
There's no denying the duo were great showmen, but none of it would have been possible without their amazing backup band. "Jake" was a passable vocalist, and while "Elwood" could blow the harp pretty well, that's just not enough. The fact that many members of their backup band had played on the original versions of the songs they were covering certainly didn't hurt; it lent the band an air of credibility and professionalism. It allowed them to be taken seriously, at least after a little while. I also think it helped that they didn't phone it in. They had a passion about this music that was palpable, and it made overlooking their shortcomings that much easier.
While the movie contained many great tunes (including a bunch that didn't make the soundtrack), "Everybody Needs Somebody To Love" was sort of the showpiece of the film. Originally recorded by Solomon Burke, and then covered shortly after by Wilson Pickett, for me Jake, Elwood, and band take it to a new level. Maybe it's because I can see them dancing to it whenever I hear it. Maybe it's because I've seen the movie a bazillion times. I dunno. What I do know is I love it, and I would have loved to have seen it live.
Unfortunately, it's not to be. The band members seem to be dropping like flies. We all know that Belushi died many years ago, but in the last few years we've also lost Steve "The Colonel" Cropper (guitar), Donald "Duck" Dunn (bass), and "Mr. Fabulous" Alan Rubin (trumpet). There will be no more "getting the band back together."
At least not here, not now. (Honestly, from what I've seen of Blues Brothers 2000, they shouldn't have done it then, either. At least not the movie. Avoid it at all costs.)