Day 99: A song you would love to put in a movie.
"Get Up" – Mike + The Mechanics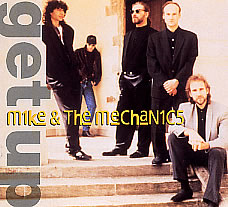 For as long as I've known this song, I've always wanted to put it in a movie. I'm not sure what originally made me think that way, but I guess the opening notes always evoked images of the sun rising over a city. And it went from there (as you'll find out). I just think it lends itself to the opening scenes of a movie. And since I'm the Academy-Award winning director of a dozen films, I should know.
What's that? I'm not? Oh. Well, then maybe this is my big break.
I should probably address the song itself before I describe the whole movie thing to you. "Get Up" opens Mike + The Mechanics' third album Word Of Mouth. You probably never heard of either the album or the song. And that's because this was the album where Atlantic Records decided they no longer gave a crap about Mike + The Mechanics, despite the millions that "The Living Years" had made for them a scant four years previous.
It was 1991, and everything was Grunge, Hip-Hop, or some sort of House/Dance/Europop thing. To be honest, the album didn't fit what was "in," so the record company simply didn't (couldn't?) promote it. I remember seeing many, many, many copies in the bargain bin during my pore-over-the-CD-bins-looking-for-gems phase. I'll admit it: That killed a teeny little part of me each and every time.
To be honest, it's not that great of an album. It's probably my least favorite of theirs, at least until Rewired, but that one hardly counts because by then it was just Mike Rutherford and Paul Carrack. Word Of Mouth is not awful, it's just very… blah. Nothing really stands out, except perhaps the title track.
But back to the song and the movie.
I should mention that this song has already been in a movie: 1993's Rookie Of The Year. However, I didn't know that until about 12 seconds ago and I've never seen the movie anyway. But at least someone in Hollywood has some taste. No matter what, I can pretty much guarantee they didn't use it in the way I have always envisioned, anyway.
So, to help you along, here's a snippet of the beginning of the song, which is the important part from my directorial point of view.
0:00 – 0:09: Time-lapse photography of the sun rising over a city skyline.
0:09 – 0:18: Time-lapse photography of traffic moving, stop and go, through the city streets.
0:18 – 0:20: Shot of a subway car arriving gliding into the station.
0:20 – 0:25: Shots of people, many dressed for work, walking the sidewalks.
0:25 – 0:26: (As Paul Young says "Get Up!") A shot of our protagonist looking at his/her watch.
0:26 – 0:35 (and beyond): Various establishing shots of an office, cubicles, etc.
And so on. Can you see it? Can you picture it in your head like I can? No? I'm just a lunatic? Okay, fine.
I have no idea what this movie is about. It's set in an office, obviously, but beyond that, I haven't got a clue. Perhaps there's a script floating around inside me where this happens. Perhaps not. But anyway, I've always thought that would be a cool visual. Maybe it's just me.
But an Academy Award-winning director has to start somewhere…