Day 74: The song that you most recently downloaded.
"Hung Up" – Madonna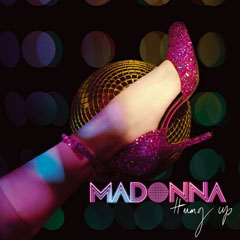 I'm a little embarrassed about this one. Had I thought ahead, I probably could have rigged it so that my most recent download was a much cooler song, like "Stairway To Heaven" or "Smells Like Teen Spirit" or even "We Built This City." But no, it's this song by Madonna.
And it's not even "Boy-Toy"-era Madonna when there might have been a shred of credibility about it. No, it's "Converted-to-Kabbalah, suddenly-talks-with-a-British-accent, adopting-babies-from-countries-you-never-heard-of"-era Madonna.
What's even worse? "Hung Up" samples an Abba song. Now, I like me a bit of Abba, but the song that she sampled isn't even a very good one. It's not "Waterloo" or "Take A Chance On Me" or something reasonably listenable, it's "Gimme! Gimme! Gimme! (A Man After Midnight)."
Not familiar with a song I've mentioned?
Click

above to hear samples.
This song is the bastard child of the Greatest Hits family. You know what I mean: the song they recorded for the Greatest Hits album just so there would be something new on it, hoping it actually becomes a hit so that they don't look like idiots. (Oddly enough, while it was a hit seemingly everywhere else in the world, it did not chart in the US. Which obviously means I'm right. Or something.) Late-era Madonna sampling a questionable Abba song has to drop the whole thing down into the middle reaches of credibility at best. Doesn't it?
Now, having said all that, the sample that Madonna chose is, in my opinion, better suited to her song than to Abba's original. Overall, "Hung Up" is a better song than "Gimme! Gimme! Gimme! (A Man After Midnight)." But the whole affair is still embarrassing. So why did I download it?
It's Marisa's fault.
Marisa used to be the Saturday morning spin instructor at the Y. (I wish she was still the Saturday morning spin instructor, but that's a different story.) And she used to use "Hung Up." A lot.
And it was a killer.
And I hated it.
When she moved on to greener pastures, I decided I would spin at home instead for various reasons (read: the new instructor sucks).
Now, I rode 3698.5 miles last year for charity. During that time, I started making my own spinning mixes. I finished that ride on December 30. Since December 30th, I have been on my bike exactly… none times. (Bad Joe! BAD JOE!) But the callouses on my butt have finally healed (and the ice cream is catching up with me) so it's time to get back on.
And that means I need mixes. And, much to my surprise (and chagrin), I missed "Hung Up." So, I needed to get it. The rest is history. History I would have preferred remain private. But there it is.
Now, if you'll excuse me, I'm going to take this opportunity to spin up a much cooler song.
We built this city, we built this city on rock and roll…