Day 155: Your favorite song by a band/artist whose name begins with "G".
"Some Kind Of Wonderful" – Grand Funk Railroad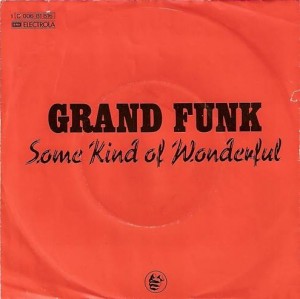 Just to mix things up a little, I've decided to invite some guest bloggers in. So without further ado…
Hello. I'll be your guest blogger for the day. I'm also the infamous "Your Wife" in the comments section. Not your wife. Joe's wife.
When I went to find the songwriting credit online, I was surprised to discover that it was written by Gerry Goffin (may he rest in peace) and Carole King. But that just didn't seem right. It wasn't. It turns out that they wrote a completely different song by the same title – most popularly covered by The Drifters in the early 60s. Carole may feel the earth move under her feet but she does not make the earth move with her music – at least not for me. Continue Reading