Day 85: A song you like by a singer who's dead.
"Too Hot To Stop" – Benjamin Orr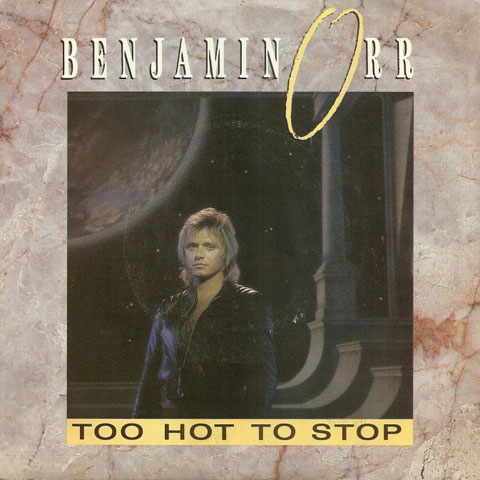 Ah. The solo album. There is nothing so likely to break up a band as individual members doing their own album. Especially if that person happens to be the primary writer in the group. While that wasn't immediately the case for The Cars, I'm sure it didn't help.
After the phenomenal success of Heartbeat City and the long tour that resulted from it, it seems as though the members of the band needed a break from each other. After that album, three out of the five members released solo albums before returning to do group work: Ric Ocasek's This Side Of Paradise, Elliot Easton's Change No Change and Benjamin Orr's The Lace. (I would recommend all three, actually, although they may not be the easiest things to find these days.) That short span was a good time to be a fan of The Cars.
(The Cars got back together for one more album, 1987's Door To Door, after this hiatus. I thought the album was good, but everyone else seemed to hate it. Rumors are tensions were very high within the band by then. They broke up for 23 years after that. Damn solo albums!)
Not familiar with a song I've mentioned?
Click

above to hear samples
and purchase songs.
Now, more people are familiar with Benjamin Orr's first single "Stay The Night" (not to be confused with the Chicago song of the same name and roughly the same era) than they are with today's song, which is not surprising. "Stay The Night" was a Top 40 hit (peaking at #24) while "Too Hot To Stop" did not chart. That's a shame, because it's a catchy song, and one more deserving of attention and promotion than it got. (I suspect the record company released "Stay The Night" as the lead single because it's a ballad, and The Cars' ballad "Drive," with Orr on lead vocals, would have been familiar to people at the time. If so, it seemed to work.)
The songs on The Lace are, overall, similar in genre to The Cars' music, but since Orr co-wrote all the songs with long-time girlfriend Diane Grey Page, these songs had a somewhat different feel from the band's output (which was virtually all written by Ric Ocasek). "Too Hot To Stop" starts the album, and I've always thought it set the mood quite well. Fun, upbeat, easy to sing along to. In short, a good example of the New Wave-ish music popular at the time. Given that, I'm not sure why it didn't do better.
I remember finding this album. There was no Internet, and I didn't read Rolling Stone or the like, so I tended to stumble upon releases. There was always some weird sense of satisfaction when you discovered a new release. Even now I get a bit of euphoria when I discover one of my favorite bands is releasing something new. It's either that or gas. I'm not sure which.) I remember checking The Cars' bin at the local Record Town (because that's what you did in those days; the only search engine at Record Town was you), and—shocker!—stumbled upon it. I remember being surprised to see it. I also remember grabbing it immediately.
I've loved this album since the first time I listened to it. I think every song is great, but I'm admittedly biased. I also suspect that if I was listening with more objective ears, some of the arrangements would sound dated. (I find that the better I know—and like—an album, the harder it is for me to tell if it sounds old.) But even to my jaded ears, the keyboards on "That's The Way," a song I love, sound a little cheesy. So listen to the samples. You tell me.
The Lace would be the only solo album Benjamin Orr released. He died of pancreatic cancer in October of 2000. The Cars 2010 reunion album, Move Like This, while very good, was missing a little something without him. And the music world is a little worse off without him.
Rest in Peace, Ben.