Day 155: Your favorite song by a band/artist whose name begins with "G".
"Some Kind Of Wonderful" – Grand Funk Railroad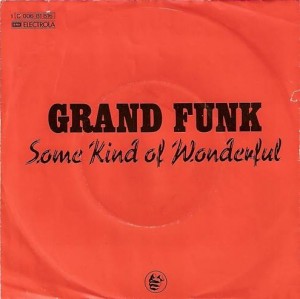 Just to mix things up a little, I've decided to invite some guest bloggers in. So without further ado…
Hello. I'll be your guest blogger for the day. I'm also the infamous "Your Wife" in the comments section. Not your wife. Joe's wife.
When I went to find the songwriting credit online, I was surprised to discover that it was written by Gerry Goffin (may he rest in peace) and Carole King. But that just didn't seem right. It wasn't. It turns out that they wrote a completely different song by the same title – most popularly covered by The Drifters in the early 60s. Carole may feel the earth move under her feet but she does not make the earth move with her music – at least not for me.
Not familiar with a song I've mentioned?
Click

above to hear samples
and purchase songs.
But John Ellison does.
John Ellison wrote today's song in 1967. It was first recorded by the Soul Brothers Six (formerly known as the Soul Brothers Five before John came along—go figure) for which he was the lead singer, guitarist and songwriter.
That original version reached #91 on the Billboard Hot 100 chart in 1967. It charted again just a year later at #87 when recorded and released by The Fantastic Johnny C. It's since been recorded by more than 50 artists, including Grand Funk Railroad who had the most success with it, taking their version to #3 on the Hot 100 chart in 1975.
Fun fact: John Ellison said it took him 20 minutes to write this song.
Fun fact (more for Joe, the train geek): The band took its name from a play on words of the Grand Trunk Western Railroad, the rail line that ran through their hometown of Flint, Michigan.
Fun fact (for the normal folks): In 1971, Grand Funk broke The Beatles' Shea Stadium attendance record by selling out in just 72 hours. Yup, 3 days. How cute.
I couldn't tell you exactly when I heard their version of the song for the first time. But I can tell you that I loved it immediately. It was one of those "What is this? Who is this? I need to hear that again!"-type of songs.
It's the bass line. I am an absolute whore for a strong blues bass line. It's exactly the type of song that goes into my "In Trouble" playlist; one of those songs that makes me want to drink Jack Daniels straight from the bottle and get up to no good. Preferably with someone who is also up for a little mischief.
This song, along with most 70s rock, falls into a bit of a black hole for me. (Unlike Joe, I didn't have an older brother to help form my musical tastes.) Does anyone else remember when WBZ played music? That's what I listened to in the 70s. Usually when we were being dragged around by my mother while she ran errands. Music that I now refer to as "back-of-the-station-wagon-songs." It was the early 80s, midway through 6th grade, before I developed any kind of interest in popular music and they weren't playing Grand Funk Railroad on the local Top 40 stations.
So, although I didn't have an older brother, I did experience the next-best level of musical development: I lived in a large, co-ed college dorm for 3 years. There is no better place to get exposed to a wide variety of music—just walk down a random hall. That's where I discovered my love of Simon and Garfunkel, Pink Floyd and They Might Be Giants.
And the best part about living in a college dorm? You can almost always find someone who's up for a little mischief.