Day 152: A song by your favorite band/artist whose name begins with "G".
"Duke's Intro (Behind The Lines)" – Genesis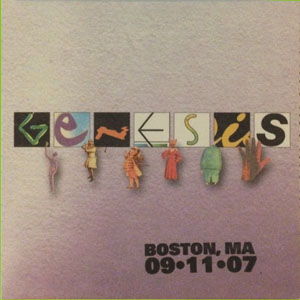 I waited many years to see Genesis live. Many, many years. Many, many, many years.
In 1986 for the Invisible Touch tour I barely knew who they were. By the time 1992 rolled around for the We Can't Dance tour, I was a much bigger fan, but I was actually on my student exchange when they played Foxboro Stadium (Back when it was still "Foxboro Stadium").
And then Phil Collins left. Things looked grim. But Mike and Tony decided to forge ahead with the Genesis name.
By 1997 when they announced the Calling All Stations tour with new lead singer Ray Wilson, I was a huge fan of the entire catalog. It wouldn't be the same without Phil, but I was still excited to go.
Not familiar with a song I've mentioned?
Click

above to hear samples
and purchase songs.
And then, before tickets even went on sale they cancelled the whole friggin' US tour due to "lack of interest." (I still haven't figured out how you can gauge lack of interest when tickets haven't gone on sale, but whatever.) I figured that was it. I'd never see them.
So when Phil came back into the fold and they announced they would be doing a reunion tour in 2007, I vowed that I would spend whatever it took to see as many shows as I could. I might have to go on food stamps, but dammit, I was going to see Genesis!
Woody was going to come over and do the trek with me. We bought tickets for Boston, Albany and Hartford. Woo hoo! And then, because three wasn't enough, we bought tickets late in the game for Montreal, as well. (But boy, those seats were a l-o-o-o-n-g way from the stage. Like, in Ontario.) This may not seem that crazy unless you know that Genesis doesn't change the set list during their tours. Or even the in-between song banter. We were essentially going to see the same show four times in 6 days. (But, I also figured there was a good chance it would be my last opportunity to see them, ever, so…)
Because of that, we knew long ahead of time (thanks to the interwebs) what the set list was going to be. The show was going to start with "Behind The Lines." Or the instrumental opening section of it, anyway. For the purposes of the tour, they referred to it as "Duke's Intro." For the uninitiated, that's because "Behind The Lines" was the opening track on 1980's Duke. (Phil also did an excellent, much jazzier cover of it on his first solo album, Face Value.)
About two and a half weeks before the Boston show, I started dating this woman. What was her name again? Oh yeah! Laura. I thought at the time that would have been cool to be able to go with her, as well, but tickets were long since purchased, and there was no chance of getting tickets near ours without legislation to raise the debt ceiling.
So, the night finally comes. Woody and I take our spots on the floor at the TD Garden. Our excitement is palpable. I'd been waiting for that moment for over 15 years.
And then, it was on. Phil cracked his sticks together four times, and the massive chords of "Behind The Lines" filled the arena. It was heaven. I'm sure my smile was big enough to fill two faces. I still—nearly 7 years later—don't quite have the words to describe how I felt.

And yet, I still wanted to share it with Laura. This girl was special. I knew it even then. So I took out my cell phone and dialed. And then I just held the phone up. After about 20 seconds I hung up. (Talking would have been impossible. And as much as I wanted to share it with her, I wasn't going to miss any of it, either. I'm not that nice.)
On the other end of the line, she saw my number come up and couldn't figure out why I wasn't at the show. Then, when all she heard was loud, unidentified music and crowd noise she figured I must have butt dialed her. She was pretty impressed when she found out later it was on purpose!
The show was amazing. And the set list ran the gamut of their career. They even dug back for things like "Ripples" and "Los Endos." (Another thing I never thought I'd hear Genesis play live. They didn't play "Driving The Last Spike" but beggar's can't be choosers.) The other shows were great as well, but nothing matched the excitement of that first show.
I'll remember that night until I die. It was a good night…