Day 151: A song that you like but for some reason don't own.
"Born To Be Wild" – Steppenwolf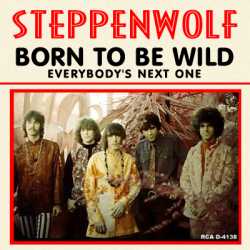 I grew up with Classic Rock. Now, when I was growing up, "Classic Rock" meant stuff from the 60s and 70s. Not stuff like "Every Little Thing She Does Is Magic" or "It's Still Rock & Roll To Me" or even worse "Alive." (It still pains me to hear these songs on "Classic Rock" stations, or worse Oldies stations. But then, I refuse to face the reality of age.)
No, when I was growing up, (in addition to having to use an outhouse, churning our own butter and walking in waist-high snow, uphill, both ways to learn in unheated one-room schoolhouses), "Born To Be Wild" was the epitome of classic rock.
And yet, I don't own it.
Not familiar with a song I've mentioned?
Click

above to hear samples
and purchase songs.
I don't know why I don't own it. I should own it. I like it well enough. Not as much as "Magic Carpet Ride" but a lot. Heck, it's purported to be the place where the term "Heavy Metal" came from. It's iconic.. it's seminal.
I don't know. I simply don't know. There is no suitable defense for this transgression. Music gods, I have failed you…
As an aside, I was originally going to choose "Dancin' Across The USA" by Lindsay Buckingham from National Lampoon's Vacation. But
It's not readily available, so it's easier to justify not having it, unlike "Born To Be Wild" which is easy to get.
I'd written about "Holiday Road" from that movie, so I didn't have a lot more to say related to that topic.
So, despite not having a suitable defense, I'm going to offer some excuses for why I don't own "Born To Be Wild" anyway. Here are some options. Use the comments to tell me which one it is (or come up with one of your own):
Perhaps there was a bit of burnout factor from my younger days. Since it was, as previously mentioned, the epitome of Classic Rock, maybe I just heard it too much. (Those "rock block" weekends get kind of repetitive.)
Someone got to my computer and deleted that song—but only that song— from my iTunes, and then left, hoping I wouldn't notice.
I ran out of hard disk space.
I got sidetracked after "Born To Run" and never got any further alphabetically.
Maybe I had it, the file got corrupted, I deleted it and never remembered to get a new copy.
I was getting it and then Lars Ulrich came here and made me delete it since I was getting it from Napster.
I was getting it and then Lars Ulrich came here, so I stopped to beat him about the head and neck and then forgot what I was doing.
I was going to get it and… I ran out of gas. I… I had a flat tire. I didn't have enough money for cab fare. My tux didn't come back from the cleaners. An old friend came in from out of town. Someone stole my car. There was an earthquake. A terrible flood. Locusts! It wasn't my fault, I swear to God!
Alright. Now that my soul has been purged and I have presumably been absolved by the music gods (i.e. this post is out of the way), I can buy it. Off to iTunes…