Day 150: A song with great vocal harmonies.
"Fool In Love" – Farrenheit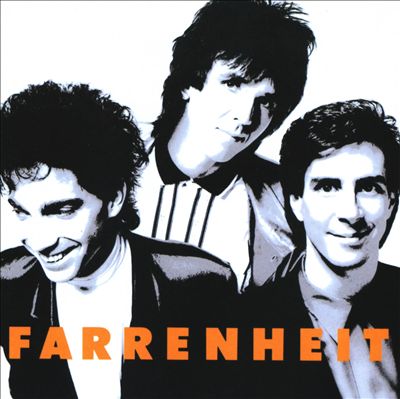 I could have gone a lot of ways with this. There are many a capella groups out there who can probably blow Farrenheit out of the water. And then there's The Beach Boys and Huey Lewis & The News and many, many more. But in the end I wanted to give a tip of the cap to a Boston-based band that never really got is due.
The band consisted of Charlie Farren, Dave Hull (Both formerly of the Joe Perry (of Aerosmith) Project), and John "Muzz" Muzzy (who also was in The Fools for a while) formed a band. Hull changed his name to "Heit" and from there, you get the strangely spelled "Farrenheit." ("Muzzyhull" and "Farrenmuzz" were never candidates.)
That incarnation recorded and released just one major-label album (so far). Called simply Farrenheit, it was a good, straight-ahead rock album, which was kind of a rarity in 1987. They predated (and didn't fit in with) the "big hair" band craze, so when those kinds of bands caught fire, I guess there wasn't a place for Farrenheit in the mix.
The album produced a couple of singles, getting a reasonable amount of airplay on Boston-area stations like WAAF, and that's where I first heard it. But apparently they never really hit anywhere else, because they dropped off the face of the earth after that. I've always liked "Fool In Love," and bought the vinyl back when it was your only avenue (besides cassettes) and not a trendy 2010s retro thing. Then, when I stumbled upon the CD somewhere many years after its initial release, I jumped on it. (Not literally of course, that would have broken the case, which is a pet peeve of mine.) One of the things I always liked was their ability to harmonize. "Fool In Love" is a good example of this, but so are "Lost In Loveland" and to a lesser extent "Goofy Boy."
Apparently Farren released a couple more albums in the late 90s (which I am waiting to receive) but seemingly those weren't the original trio. Muzz's website claims there's a new album coming, but it's not dated, so who knows when that was/is. And, you can still get the original Farrenheit CD from Amazon (link above.)
That's about all I know. So I'll simply leave you with the video to "Fool In Love." You can judge the harmonies for yourselves. Enjoy.