Day 143: A song beginning with the word "you".
"You Sexy Thing" – Hot Chocolate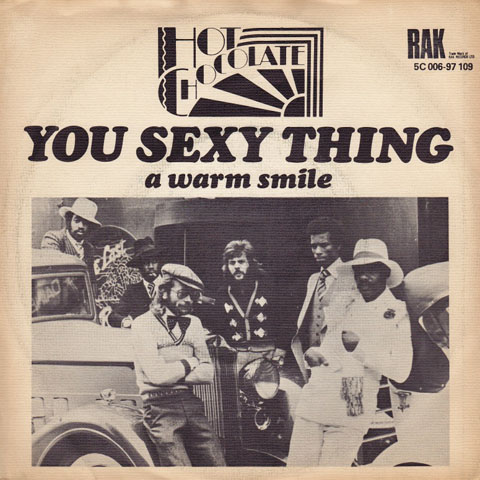 This song had a resurgence in the 90s when it was featured in The Full Monty, and then a short while later when it was featured in, of all things, a Burger King ad.
But I remember it from shortly after its initial release in 1975.
You see, this one was another one of my brother's 45s. And I remember hearing it in the bedroom we shared on Campbell Rd. in Willoughby, Ohio. (And, of course, after that, as well.)
That house is long gone, but the song remains. (Which is probably how it should be.)
Not familiar with a song I've mentioned?
Click

above to hear samples
and purchase songs.
At the time, I certainly didn't know what the words meant, but even as a little kid the combination of its funky beat, its bass groove, the distorted guitar line repeating that distinctive six note riff, and the sound of Errol Brown's voice drew me in.
"You Sexy Thing" went to #3 on the Hot 100 chart, so I wasn't the only one. But I had to have been in the running for the youngest one. I was only five. But you have to admit, it's a great song. It's charted in the UK in three different decades. People dance naked to it on film. What more can you ask for?
On a more mundane note, I am consistently surprised by how many of these "Dave's 45s" songs that I was exposed to at such an early age have stuck with me and remained among my favorite songs ever. That box of 45s was an amazing collection of high quality songs from the 70s (which many would say is an oxymoron). I guess it just goes to show that my brother and I have a large overlap in our tastes. The question of course, is how much did hearing these songs influence my taste, or did it just so happen that my tastes were satisfied by the songs?
I'd probably have to go with the former, given how many of these blog posts have been about songs I shouldn't like, but do because of exposure as a kid.
Of course, if that were solely that case, I'd also love Donny & Marie Osmond, Barry Manilow, and the Carpenters. These were big favorites of my sister during the same time frame as "You Sexy Thing." While my affinity for the last two ranges from tolerance to "shit, yeah, I have to admit I like that song" to "shit, yeah, I have that song," there is nary an Osmond song to be found. Why this is, I can't say.
Maybe it's the teeth…