Day 142: Your favorite parody song.
"What Does My Girl Say" – SNL Cast with Kerry Washington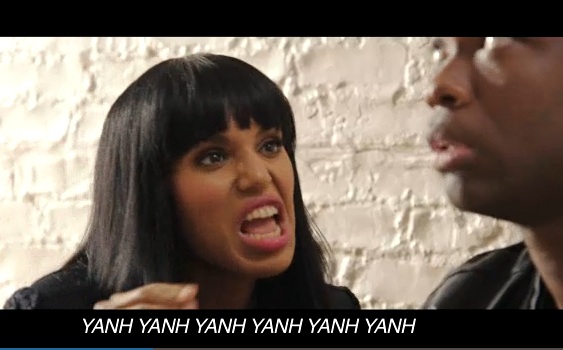 I feel a little bit like a cheating lover.
You see, I grew up listening to "Weird Al" Yankovic. The first two albums I ever bought on vinyl were both "Weird Al" albums.
So to choose something other than a "Weird Al" song as my favorite parody song seems very wrong.In my defense, I did originally have a "Weird Al" song lined up for this post. Late last year, as I was going over posts to see what low-hanging fruit I could fill in, I came to this post and penciled in "Party In The C.I.A." as the song. In typical Al style, he take a topic that could be a little dicey and makes it humorous (and no, there's not mention of food in this one.)
Not familiar with a song I've mentioned?
Click

above to hear samples
and purchase songs.
And then I saw the "Saturday Night Live" episode with Kerry Washington (who I have to say is far more versatile than I would have guessed, unlike Jim Parsons). After that, there was no doubt that "Party In The C.I.A." was getting bumped.
You see, while there were actually a higher than average number of good sketches on the show, the digital short of "What Does My Girl Say," a parody of "What Does The Fox Say," made me laugh out loud. Multiple times. (Especially the part starting at 1:10.)
I never jumped on the bandwagon for the original, and there are a million parodies of it out there, but this particular one I love. (I also liked the "What Do The Sox Say" version that one of the local radio stations put out after the Red Sox won the World Series last year. A feat unlikely to be repeated this year.)
If you haven't seen it, I've provided the video below. I guess part of the reason I like it is that it's so far from the character she plays on "Scandal," who is so… even-keeled, I guess. (And this is one of the reasons I mentioned her versatility earlier.) It kind of makes me wonder what she's like in real life. Is she more Olivia Pope or more the chick in this video?
Actually, now that I think about it, I might be scared to know the answer.