Day 123: A song by your favorite band/artist whose name begins with "D".
"Photograph" – Def Leppard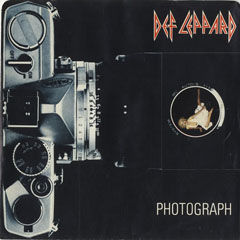 I remember the summer that "Photograph" was huge. There are certain events that summer that really stand out.
This was the summer of 1983. And, it may be my favorite summer ever, music-wise. My family (extended family) rented a cottage at Salisbury Beach (back when there was still something there). This cottage was fairly close to the midway. Who knows how much money we wasted on Skee Ball, video games, black raspberry soft serve ice cream cones, and tickets to "The Himalaya."
"The Himalaya" was one of those centrifugal force rides where you spin round and round as it simultaneously bounces you up and down while you try not to be thrown from the ride like a cat on a ceiling fan. It was our favorite ride there.
Not familiar with a song I've mentioned?
Click

above to hear samples
and purchase songs.
There were others of its ilk at other parks, typically with some Alpine-themed name. "The Matterhorn" was another common one. But the MO was the same no matter what: The music would play. You'd start slow. A tease, really. And then they'd bump up the speed just a bit. Then after they teased you with that for a while, you'd go "real fast." And finally "real, real fast!" accompanied by wailing siren. (Go to around 0:50 and 1:13 in the video below if you have no idea what I'm talking about.)
Anyway, from the cottage and our stretch of the beach, you could hear the music play all day and into the night. Well. We witnessed lots of "real, real fast"s and siren blaring. And we heard lots of good music, because it seemed like, for that particular summer, every song they played, I liked.
"Photograph" was one of them. (As was "Our House," "Sweet Dreams (Are Made Of This)," "Maniac" and many others. Even the occasional "Every Breath You Take" which really didn't fit the mood of the ride. You got screwed if you got "Every Breath You Take.")
Pyromania, the album that spawned "Photograph" and three more singles, was making its way up the charts, although I don't think anyone knew quite how huge of an album it would end up being. As such, this vacation was my major introduction to Def Leppard (thanks to my cousin Michelle, and later, my brother). Today's song and "Rock Of Ages" were big at the time, and so they got some pretty significant play at The Himalaya.
As a result of my Himalayan exposure I soon started listening to my brother's copy of Pyromania. (Excellent album, top to bottom.) And later High 'N' Dry. (Very good album.) And finally On Through The Night. (Meh.) This was years before the juggernaut that would be Hysteria, which served only to add to my fandom.
You could say that "Mutt" Lange's production was the catalyst to the charts, but you'd be wrong in my opinion. It certainly didn't hurt, but these guys knew how to write good tunes, and how to rock (with a decided bias toward radio-friendliness.) They were 80s rock.
But, alas, the good times can't last forever. They had some issues. Their drummer lost his arm. Their primary guitarist and major song contributor drank himself to death. It wasn't pretty. Their music post-1990 was uneven, and I lost interest there for a while. But I check in every so often to see what they've done. While the later stuff doesn't have the massive appeal of their 80s output, it's still solid (mostly).
The good times didn't last forever at Salisbury, either. The Himalaya is gone now. In fact, most of the midway is gone now, too. Last time I was at Salisbury Beach, it was a shell of its former self. There was almost nothing left; it was pretty depressing, really. I guess they've done some redevelopment in recent years, but it'll never be like it was.
But we can still relive the halcyon days of 1983 from the photographs. Both the pictures, and the song.
Oh yeah, and boycott Mr. Mikes! (Just go with it.)
This was taken in the summer in question. Not my video, and I actually do not know the person who took it. I am not in the video, and neither is anyone I know. I checked.