Day 94: Your favorite song that starts with the letter "B".
"Birdhouse In Your Soul" – They Might Be Giants
I'm a little shocked it took me 94 days to get to a They Might Be Giants song. But it was worth the wait.
(Let's do a little administrative work here: from this point on, "They Might Be Giants" will be referenced as TMBG. There's no need to type that out longhand more than I have to.)
I have made reference to a TMBG song before. And, there were any number of their songs that were in the running for both favorite song of the 80s and favorite of the 90s. But, I'm sorta glad that it worked out this way.
TMBG are one of my favorite bands, but like many people, the path to fandom wasn't necessarily a direct one. My friend Kris introduced me to them back around 1992, I think. He played their debut, self-titled album for me. And, I had what appears, after consultation with other fans, to be a typical progression to fandom:
Not familiar with a song I've mentioned?
Click

above to hear samples
and purchase songs.
Listen #1: "What the hell is this? This is so weird. Why are we listening to this?"
Listen #2: "These guys are so bizarre. But that part right there was pretty catchy."
Listen #3: "I still don't know that the hell this is. But I kinda like that one song…"
Listen #4 (which you actually requested): "Y'know this isn't too bad. But I'd never actually buy an album."
Listen #5: This album is really good.
After that, it's pretty much all over. Listen #5 is typically followed at some point by "I really like these guys," "This is really cool," and no matter how adamant you think you are on listen#4, purchases follow. (And, since TMBG has been around since 1986, there are myriad purchases to be made.)
"Birdhouse In Your Soul" comes from their 1990 album Flood, which I still believe to be their best album. Flood and Apollo 18 represent their two-man peak (they started as a two piece with lots of drum machines and sequencing, but eventually expanded to be a full band).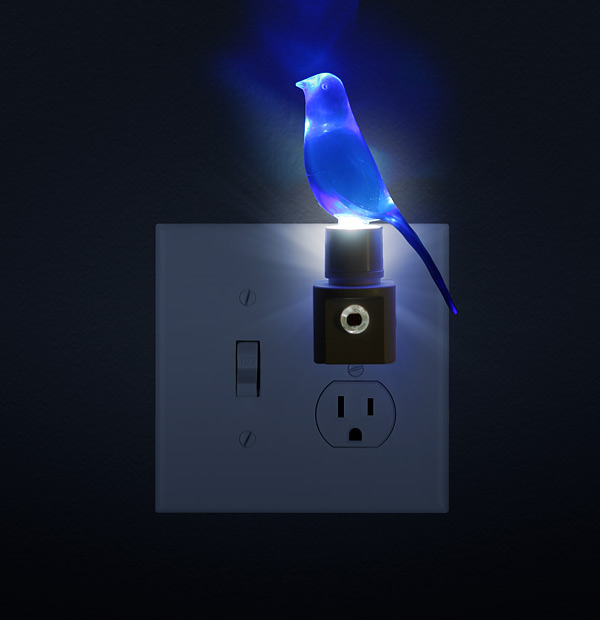 The song tells the story (sort of) of a night-light shaped like a blue canary. (I have one myself. And you can too! It looks like the picture to the left.) He talks about all kinds of things, and he does it in a very, very catchy way. "Birdhouse In Your Soul" is TMBG's highest-charting single, even to this day, and there's good reason for it.
Flood is also home to a brilliant cover of "Istanbul (Not Constantinople)," "Particle Man" and the classic "Minimum Wage." So many good songs in so little time. You knew even then it would be hard to top.
As you might expect (and as will probably become a habit once again as we start to go through the letters of the alphabet here on a pretty regular basis) there are some runners-up:
"Bam Bam"—King Charles. I don't remember where I first heard this. I only heard it once, and luckily when I did, I "Shazam"ed it. It's a great, bouncy, upbeat tune that I've quickly grown to love. The rest of the album is good too.
"Behind The Lines"—Genesis/Phil Collins. Phil Collins was the first person to cover this Genesis tune, and he does a completely different arrangement and tempo. Both versions are brilliant.
"Blood On The Rooftops"—Genesis. This little known song from 1977's Wind & Wuthering is an observational tale of a day watching TV. The music is understated and brilliant. My favorite song written by Steve Hackett. (Yes, he used to be in Genesis, too.)
"Blue Boy"—Jim Reeves. You've forgotten already? I covered this one just a little while ago.
"The Brazilian"—Genesis. For a while, my favorite Genesis song. Could still be my favorite Genesis instrumental, although "Los Endos" and "Do The Neurotic" are right up there.
"Buffalo Soldier"—Bob Marley. There are two versions of this out there. I'm talking about the harder-to-find, upbeat "Original Legend" version.
So there are my favorite "B" songs. It was actually kind of tough to narrow it down.
Now, if you'll excuse me, I have to do something about a little bird that's stalking me…