Day 116: Your favorite song beginning with "D".
"Do Ya" – Electric Light Orchestra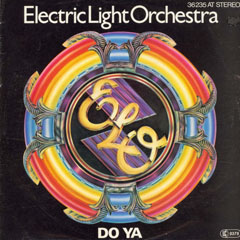 My long-term memory is generally pretty good. But, it is unclear to me when I first heard "Do Ya."
I was aware of "Telephone Line" from A New World Record for many years. And probably "Livin' Thing," as well. (Once again, I have my brother to thank for this.) Based on the strength of these two songs, I picked up the CD sometime in college.
And I'm very glad I did. While ELO had more than its share of hits (for those who don't remember, they were one of the most popular bands of the 70s) this album plays almost like an ad hoc greatest hits album of its own (minus the Bastard Child song). The whole album seems to have, at some point, gotten play on Classic Rock radio. It's got "Tightrope" and "Rockaria!"
And "Do Ya."
Not familiar with a song I've mentioned?
Click

above to hear samples
and purchase songs.
The first time I listened to the album as a whole may be the first time I heard "Do Ya." (But, since it was a single, that does seem a little unlikely.) To be honest, it's ticking me off that I can't remember this. But anyway…
"Do Ya" starts with its crunchy guitar chords. (It was these chords, and the sound of them, that inspired Tom Petty to write "Change of Heart."). These lead to a few measures of strings (love the strings) before jumping into its guitar-driven verses. The chord structure is simple, but effective. The lyrics talk about all the things that the singer has seen in his travels. Which eventually builds up to a proclamation that "I… Never seen nothin' like you." This resolves with the chorus complete with its multi-layered vocals and more crunchy guitar. I love it. Brilliant all around.
A New World Record was released in 1976, but "Do Ya" has a longer history than that. Before ELO, Jeff Lynne was part of a band called "The Move." He actually wrote this song in 1971 and The Move recorded it, even releasing it as a single. That version was a minor (very minor) hit in the US.
I don't like that version.
Per the liner notes, in 2000, Lynne found an unedited alternative mix for the song—also recorded in 1976—that he decided he preferred over the album cut. (So wrong, Jeff… So wrong.) A digital remaster of the track is included on the compilation box set Flashback, which, being the demented completist that I am, I also have.
I don't like that version… despite my initial excitement about it. (A longer version of "Do Ya"! Alright! Oh, wait.)
Jeff Lynne also re-recorded it for Mr. Blue Sky: The Very Best of Electric Light Orchestra, an album where, for some reason, he covered his own songs, trying to make note-for-note copies using the latest studio technology. (To me this seems analogous to trying to build a 2015 Mustang that looks exactly like a 1965 Mustang. On the current assembly line. With modern amenities like airbags and navigation. There just doesn't seem to be a need for it.)
I don't like that version.
But I don't like this last version less than I don't like the previous two. (Let me know in the comments if that one made your head explode.) And I guess I'm not the completist I think I am. I do not have that album. (At the time of this writing. Catch me next week.)
In reality, those versions are actually fine. But I love the version on A New World Record so much. Probably too much. To me, the verse and chorus structure on that version is just right. No padding. No fluff.
On the other hand(s), The Move's version pales in comparison. The 2000 release has extra "stuff" on the verses and it just screws up the flow. And the "new" version… There's just something off about it. To summarize: You just shouldn't mess with perfection.
I know all those things are purely subjective, and I'm sure there are plenty of other people out there who like other versions better. Nice people. Smart people.
I don't like those people.