Day 116: Your favorite song beginning with "D".
"Do Ya" – Electric Light Orchestra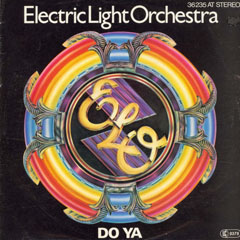 My long-term memory is generally pretty good. But, it is unclear to me when I first heard "Do Ya."
I was aware of "Telephone Line" from A New World Record for many years. And probably "Livin' Thing," as well. (Once again, I have my brother to thank for this.) Based on the strength of these two songs, I picked up the CD sometime in college.
And I'm very glad I did. While ELO had more than its share of hits (for those who don't remember, they were one of the most popular bands of the 70s) this album plays almost like an ad hoc greatest hits album of its own (minus the Bastard Child song). The whole album seems to have, at some point, gotten play on Classic Rock radio. It's got "Tightrope" and "Rockaria!"
And "Do Ya." Continue Reading