Day 78: A favorite song with a color in the title.
"Goodbye Yellow Brick Road" – Elton John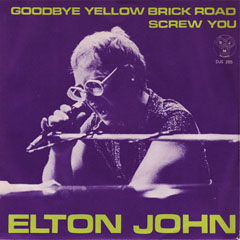 I couldn't quite figure out if I should do "Yellow Submarine" or this song today. (Although, apparently, inclusion of the word "yellow" was required no matter what.) "Yellow Submarine" and I have a long history dating back almost 35 years. But in the end "Goodbye Yellow Brick Road" won out.
Maybe because it's less silly. Maybe it because I have fond memories of listening to it. Maybe it's just been on my mind. The 40th anniversary of the album was last year, and I read just recently that Island Records (Elton's current label) is re-releasing it. And of course, they aren't just re-releasing it. They're remastering it (again) and to cash in to the greatest extent, it will be available in something like 62 different packaging options. Regular Edition, Deluxe Edition, Super Deluxe Edition, Super-Duper Mega Ultimate Deluxe Edition. (That last one is rare and very hard to find.) You get the picture.
But, I can't blame people for being capitalists.
Not familiar with a song I've mentioned?
Click

above to hear samples
and purchase songs.
Anyway, I may have before mentioned that prior to my student exchange to Australia I taped a whole slew of albums to take with me. Goodbye Yellow Brick Road was one of them. I'd been aware of the album for quite a while (and had varying levels of familiarity with some of the songs, like the title track, "Bennie And The Jets," and "Saturday Night's Alright For Fighting"), but I'd never really listened to the album as a whole. Well, albums really, since it was released as a double. (I had, though, always been fascinated by its cover. It has to be one of the best album packages ever.)
Once I started listening to this album, I couldn't stop. And although I love the album as a whole, there's a lot to be said for the title track. It uses the Oz story to describe a love affair gone sour, where the once-attractive trappings of "the good life" is no longer preferable to the more boring "Kansas." Elton's melancholy, understated music and longing vocal is befitting Bernie Taupin's sad lyric.
So goodbye yellow brick road
Where the dogs of society howl
You can't plant me in your penthouse
I'm going back to my plough

Back to the howlin' old owl in the woods
Huntin' the horny-back toad
Oh I finally decided my future lies
beyond the yellow brick road.
Before the discovery of the Abacab and Genesis albums, Goodbye Yellow Brick Road was well on its way to becoming the soundtrack for that trip. It's far and away my favorite Elton John album (and I have a lot of them). The songwriting duo were at their peak and the breadth of musical styles on the album is amazing. Nearly every song is a gem (although to be honest "Bennie And The Jets" has never been one of my favorites). Maybe one of these days I'll talk about "Funeral For A Friend/Love Lies Bleeding," the amazing suite that starts the album off. (And also has a Genesis connection. Imagine that!)
To my knowledge, Elton doesn't sing this one anymore. After his throat surgery in 1987, he cut way back on the falsettos and really high notes. And lord knows this one has some high notes. But it's a shame. It really is a pretty song.
For the record, you didn't read that picture sleeve above incorrectly. The B-side was, indeed, "Screw You." However, Elton's US record company at the time, MCA, thought the title was a little too risky, so they named it "Young Man's Blues" for US release instead. Which is ironic, because if anyone remembers MCA's packaging in the early days of CDs, you'd have thought "Screw You" was their theme song. "Ha! You paid full price. You get nothing! Screw you!"
So, yes, I will be a schmuck and buy the re-released album. And I'm sure I'll enjoy it all over again.
And if you don't like it, then Young Man's Blues.