Day 64: Your favorite song featured in a musical.
"You're The One That I Want"
Olivia Newton-John with John Travolta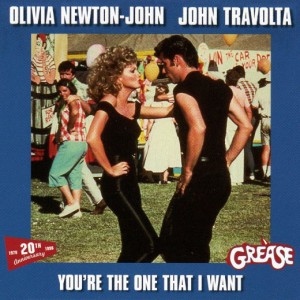 You may be surprised that I didn't pick something from The Blues Brothers. In a way, so am I. But The Blues Brothers is not what I would consider a "pure" musical. That is, where the songs are an integral part of the storyline, and actually help tell the story. (The fact that I know that makes me question my masculinity for a tiny second.)
I was not quite eight when Grease came out, and did not see the movie at the time. But I do remember Jolie Garvey's birthday party in December of that year. I remember it for three reasons:
I won a burping contest.
I ate plaster. (The jury is out on whether I ate it just to eat it, or did it to ease some embarrassment on the part of my friend Mike after he had eaten it first)
The soundtrack from Grease was all the rage with the girls.
Not familiar with a song I've mentioned?
Click

above to hear samples.
I didn't care much then, and, outside of hearing "Hopelessly Devoted To You" pretty often during the "slow skates" at the roller rink for a while, I basically forgot about it until the fifteenth anniversary came around. Then there was this whole Grease revival where they re-released the soundtrack and made a big fuss about the movie in general. And that's when I actually saw it. (Sadly, thanks to HBO, I've seen the fairly horrible Grease 2 way more than Grease. We can talk about the merits of "Cool Rider" and "Reproduction" in another post. Or not.)
It was also the first time I cared at all about the music from Grease.
"You're The One The I Want," as you probably know, is a rousing tune performed near the end of the movie when Sandy and Danny (Olivia Newton-John and John Travolta) finally get past all the crap and admit their love (and lust). The scene is memorable for its bubbly nature where everyone seems to be having a good time.
The scene with this song was also memorable because (and I may take flack for this) it was the only time in the movie (and possibly ever) that Olivia Newton-John looked hot (hey, look at that, masculinity intact). Sure, pre-Spandex-leggings Sandy was cute, but… man. While I could have done without the cigarette (I'm a fascist when it comes to smoking), that outfit was something. So skin-tight, in fact, that she had to literally be sewn into it. No wonder Danny's chills were multiplying.
While I can't discern any musical nods to the 50s that would make sense for its placement in the movie, it's a good song that has help up remarkably well in the intervening 35 years since the film's release. In fact, it might have been my choice for favorite duet had I not already had it slated for today's post. It's got many of the song elements that I gravitate towards. It's upbeat; it's got a decent, sort of sliding bass line; and it has (possibly fake) horns. What's not to like?
There actually aren't too many other songs from the soundtrack that I like at all, but there are a couple. None, however, get the plays that this one does. (It's tied for 14th place on my iTunes "Most Played" list.) So there you have it.
So let the "Olivia Newton-John? Really?" comments begin. It's okay. I've got thick skin.
In case you forgot…