Day 48. A song that you wish you could've written.
"Solsbury Hill" – Peter Gabriel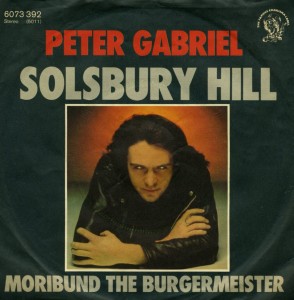 For those that don't know, long before "Sledgehammer" and "Steam," there was "I Know What I Like," "The Knife" and "The Battle Of Epping Forest." No, you won't find those last three on any Peter Gabriel solo album. You see, before his solo career, Gabriel was the original lead singer of Genesis.
He left the band in 1975. (Many thought that the departure could spell the end of Genesis. Thankfully, it didn't.) In 1977 he released his first solo album, called, surprisingly enough, Peter Gabriel. (This album was followed by a new one in 1978 called Peter Gabriel, another in 1980 called Peter Gabriel, and one in 1982 called… you guessed it… Peter Gabriel. He's quite a creative songwriter, but he sucks at album titles.) The first single from Peter Gabriel—uh, the first Peter Gabriel—was "Solsbury Hill."
Not familiar with a song I've mentioned?
Click

above to hear samples.
"Solsbury Hill" wasn't a patently obvious choice. I knew I wanted to pick something that was a bit unconventional, and often for me that means long and at least somewhat complex. Since I'm still holding Genesis off-limits for a little longer, I had to look beyond things like "Firth Of Fifth" and "Duke's Travels." I then thought of "Scenes From An Italian Restaurant" by Billy Joel, but since I'd already done one of his songs, I didn't want to do that either.
Then I thought of "Solsbury Hill" and that pretty much decided that. There were a number of reasons:
It's a great song. A pretty song with pretty lyrics. But they're also lyrics of empowerment, of taking a chance and doing what it is you really want (or need) to do, regardless of the risk involved. Too often people go through life afraid to make a change. And then there are always the people who are going to tell you, "no, you can't do that" or "that's not the way it's supposed to work." Gabriel decided he wasn't going to listen to them. (And you shouldn't either.)
It's reported to be about Gabriel deciding to leave Genesis. (A decision made while having a "spiritual experience" at the song's namesake location. He likes those "spiritual experiences," but more on that later.) So, in order to have written the song, you'd have had to have been in Genesis, which would have been pretty cool in the first place (says the die-hard fan).

Third, there's more going on in this song than meets the… uh… ear. That is, not only is the song structure and melody well done, but it uses a 7/4 time signature for most of the song (except the last two measures of each chorus, which are in 4/4). This is an unconventional time signature, but Gabriel makes it sound effortless and natural, which is rarely the case for songs in "7". (So it fits my previously stated "unconventional" and "somewhat complex" criteria.)
Even after I subsequently realized that I'd already penciled in a Gabriel song for Day 58 (which totally negated my logic for not picking a Billy Joel song), I decided I didn't want to reconsider or go back to "Scenes From An Italian Restaurant." (So I'll have to find another topic to use that one for.)
"Solsbury Hill" is an achievement and something I would have liked to have written. I have written a number of songs; not a huge number, but a number. It's not easy to write even a bad song much less one you can be proud of. My songs have never strayed out of the 4/4 and 3/4 time signatures, and my lyrics are not really strong. (I'm a good prose writer (if I say so myself), but not a great poet.)
Now album titles? Yeah, I got it all over Pete on that front…