Day 47. The oldest song you own.
"Let The Good Times Roll" – Louis Jordan & His Tympany Five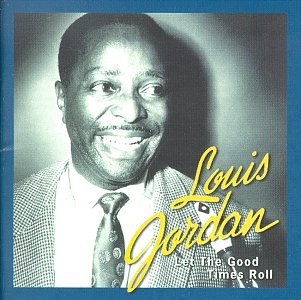 How many of you thought, based on the title, it was going to be The Cars? Be honest… But that's actually called "Good Times Roll."

As I've stated before, The Blues Brothers is among my favorite movies, if not the favorite.
What I may not have explicitly stated is that I have a tendency to make up stupid (but fun!) projects for myself. And some of those projects can end up being a little time-consuming. (Like writing a blog post a day based on a song challenge. Who would do that?)
Now, I've owned a copy of The Blues Brothers soundtrack for a long time. And while the music that's there ranges from good to great, many of the renditions presented are not the versions that are actually in the movie. Take, for example, "Everybody Needs Somebody To Love." On the album, the song starts with a cheering crowd and has female backing singers, while in the movie the crowd was dead silent at the start and the stage was a sausage-fest.
Not familiar with a song I've mentioned?
Click

above to hear samples.
Beyond that, there are a lot of things that get played in the movie that aren't on the soundtrack at all. (John Lee Hooker's street performance of "Boom Boom"; Sam & Dave's "Soothe Me" & "Hold On, I'm Comin'," which were playing on the 8-Track deck just before the mall chase; and "I Can't Turn You Lose" during the mall chase just to name a few.
"So what does this have to do with your crazy projects?" I hear you say.
Well, I decided to make my own soundtrack. A better soundtrack. A complete soundtrack. A soundtrack we can all be proud of. Or something.
Modern technology makes this much easier than it used to be. You can find obscure songs on Amazon or iTunes without much trouble. For one-of-a-kind in-movie performances, there are audio extraction tools. So yes, I'm insane, but as a result I have really cool things like Jake & Elwood singing "Stand By Your Man" and "Quando Quando Quando" by Murph & The Magictones. (Wait? What? Those aren't cool? Who says?)
One of the songs I had the most trouble identifying was the song on the 78(!) that Elwood plays just after they return to his apartment and just before Jake chastises him for running from the cops, saying they now had his address. After some research, I learned that the song was "Let The Good Times Roll" by Louis Jordan. So, in order to complete my soundtrack, I had to buy it. At that point, this song from 1946 became the oldest song I own.
See how that all came together?
(All right, I'm lying. I have a version of Judy Garland singing "Have Yourself A Merry Little Christmas" from 1944 that is actually the oldest song I own. But I tend to segregate Christmas songs and I'm trying to keep them out of the song challenge mix, at least until the season rolls around, at which time I might relax the rule. Maybe.)
So there you have it. The insanity… er… project that resulted in my oldest song. And the ability to hear Jake & Elwood singing "Stand By Your Man at any time on my iPod. Which is cool. No matter what you say.
Elwood: "No they don't got my address! I falsified my renewal. I put down 1060 West Addison."
Jake: "1060 West Addision? That's Wrigley Field."