Day 46. Your favorite song of this year.
"Imagination Infatuation" – MisterWives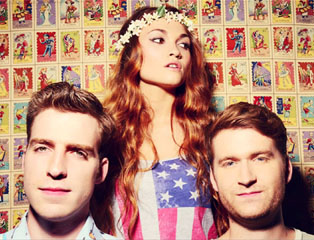 If yesterday was easy, today was ridiculously easy.
Because, you see, it's only February. So picking a favorite song of the year is much simpler when there really hasn't been that much music released so far.
To make it even easier, of the things that have been released, I've only bought one album (actually only an EP—six songs).
As chance would have it I went to the iTunes store a couple of weeks ago and somehow stumbled upon this. It must have been a featured-something-or-other on the main page.
Not familiar with a song I've mentioned?
Click

above to hear samples.
I clicked. I liked. I bought.
(My friend Mike once said he admired my ability to listen to a song and almost immediately decide if I liked it or not. And while that doesn't always hold true (see "All Mixed Up") it is fairly accurate. Whether it's a trait (talent?) worthy of admiration is another thing entirely. Personally, I'm doubtful.)
The songs are catchy, even if they are all cut from a similar cloth. I wouldn't call them masterpieces, or great art, but they're fun. Just for grins, I've provided samples for all the songs on the EP. (While there are certain things I miss as a result of modern technology, like going to the record store and flipping through the rows of records/CDs, there is definitely something to be said for being able to immediately hear samples of something before you buy.)
So…
Um… yeah. That's all I've got for you today.
Tune in next time when we find out how to clear a nasty clog, an organic cure for athlete's foot, and what's Joe's oldest song is. (The clog and cure things might get pre-empted, just so you know.)